I should have given it so much more thought
And taken them along to see my golf course
As it was they got the 'horsy' bug
And each of them wanted a horse.
The strange thing you know, about all this,
Was the way my wife entered the fray
She'd only had to take one look at a horse
Before wishing it a very good day!
She didn't know one end from the other,
And was nervous right to the core,
But she stuck to the task did my Gillian,
As her courage came right to the fore.
She'd get stuck in at the stables
And looked as if she was covered in soot.
When she took them out on a lead rein,
They used to trample all over her foot!
So she grew with the children, in expertise,
As along all the lanes she would trudge
In fact she became such an expert.
She's now a well respected jumps judge.
As for me, it seemed a good idea at the time
As I could afford not to hire.
If only I'd known the expenses involved.
It's like throwing your wallet on the fire!



First of all there are the farmer's bills
Stable rent and putting them to graze
Then comes the hay and the mollichuff
And that's only the preliminary phase!
There's all the horses accoutrements,
Bridle, reins, numnah and saddle.
If you're giving consideration to getting a horse,
Read this before you skeedaddle!
Then there's the horsebox to take them around,
To all the horse shows in the County.
I should have taken up piracy,
I could have done with so much more bounty.



Then comes all the personal attire,
Like helmets with strict specification.
Jackets, jodhpurs and riding boots,
I viewed them all with some trepidation.
Don't forget all the entry fees,
To the tournaments and the Pony Club.
The cleaning equipment, the travel costs,
And I couldn't ask anyone for a sub!
Finally there was the blacksmith.
Who regularly looked after their feet.
Not forgetting the veterinary bills
To make my life quite complete!
You may be getting the impression,
That everything was going down hill,
But when you've got such lovely children,
Where there's a way there's a will.
And it wasn't as if everything was costly
Some things didn't carry a fee.
All you needed was a bucket and shovel
Because what came out of the back end was free!
But that was only the beginning,
It got worse as the children grew up,
"I could really do with a much bigger horse
To stand a chance of winning that cup!"
They jumped, they showed, they did team chase,
They took part in the team tetrathlon
Running, riding, swimming and shooting,
I must admit that they really shone.
They developed and rode a very good saddle
They won cups and the odd silver plate.
Their trophy table groaned under the pressure.
They were in such a euphoric state!
I remember the time I was working away
When the phone was given to me by a porter.
"Dad we're sixty miles away from home
And we'd like to buy this super horse transporter!"
"It's got plenty of room for four horses
And a place inside to live
It runs very cheaply on diesel
It would be a very nice present to give!"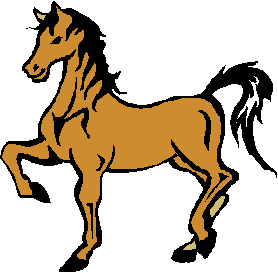 "Oh! Sorry we quite forgot to tell you,
That we were contemplating this acquisition
But now that we've travelled all this way.
You'll surely give your permission!"
"Oh Dad it's really a very good buy,
We've inspected it and done all the rounds,
And we can take it away immediately,
For only eight thousand pounds!"
"Just think of all the shows that there are,
In which we could both compete,
We could get there early and home in a day,
Or in the transporter we could put up our feet!"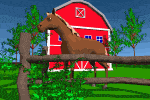 I did some rapid mental calculations.
Would there be any chance at all,
Of turning them away from horse riding,
By buying some golf clubs and a ball?
They'd caught me quite on the hop do you see.
So early a new day was just dawning,
And there they were pleading over the 'phone,
Although they'd not given me any prior warning!
Well, what can you do, they're your flesh and blood.
And they're really very good at the sport.
What's money after all at the end of the day?
I had to give them my entire support.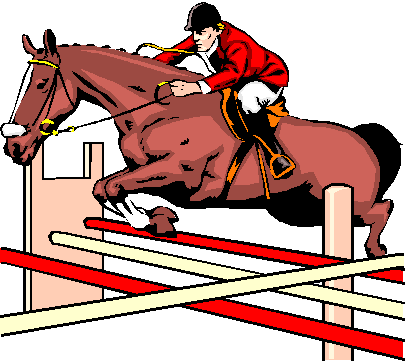 But to all of you, on the threshold of buying,
Your children their very first horse.
Give careful consideration to my story.
Before saying, of course you can dear, yes of course!

by Penny Less.
Author: Trevor Durbidge Copyright © 2001 [TJD]. All rights reserved. Revised: October 30, 2007 .