The dear old lady staggered along,
Her face so drawn and chalky.
As she slowly unleashed the tethering thong,
That was half strangling her dear little Yorkie.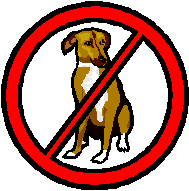 "Come on dear," she said," you understand,"
To her silent and so faithful wretch.
"This is your last walk, before you're banned,
From this so lovely seaside stretch."
"I wish they'd change their minds, you know,
Before my spirits droop,
I'd be quite happy to bring a po,
Or a special little doggie scoop."
"It's the ones who can't look after a dog,
Are those who ought to be banned.
Turning the beaches into a bit of a bog,
And ruining the beautiful sand."
"But the Council have hired a hit man,
To keep all canines at bay.
And those who defy the law can,
All be taken away!"
"So roll on the end of the summer season,
When we can stroll the beach once more.
Until then my dog's got good reason,
To put down a very firm paw!"
By Kay Nine.

This poem is dedicated to my grandson, Sam.
Author: Trevor Durbidge Copyright © 2001 [TJD]. All rights reserved. Revised: October 30, 2007 .