They call him 'The Great Ombudsman',
Who sits astride the Nation,
Investigating naughty things,
Like mal-administration.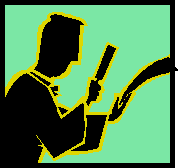 He's sometimes firm,
And he's sometimes kind,
When he's fathoming,
The Bureaucratic mind!
It's not plain sailing,
As you must see,
Catching,
The Bureaucracy!
Blinds go down,
A veil is drawn,
In a complex game,
He's just a pawn!
For no one will to admit to wrong,
And miss out on an honours 'gong',
So is it a mere impression that he,
Safeguards the rights of democracy?
By N. Vestigator.
Author: Trevor Durbidge Copyright © 2001 [TJD]. All rights reserved.Revised: October 30, 2007 .