"I'll go out in the garden and make myself useful,
I know that I can, because I'm handy."
When he said it, his wife knew that trouble was in store,
Because he couldn't tell a 'daff' from a dandy!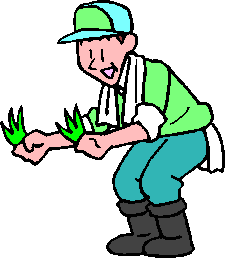 He started walking over the flower bed.
"Oh they're alright, perfectly sound!"
But he forgot to take care, as he wandered away,
And trampled those plants into the ground !
"I've been watching the 'telly', the gardening club,
And I've picked up lots of good tips.
You have to prune them just like this," he said
And devastated his wife's prize tulips!
"Now fruit is my favourite, particularly this pear.
Did you know that they fertilise each other?"
He took steps to attend to that fruitful pear tree,
From which it will never ever recover !
"This rockery growth needs infinitesimal care,
It's something I learned from my Aunt."
By the time he'd finished, I'm sorry to say,
He'd ruined virtually every plant !
"I love to eat blackberries and cream," he mused,
Leaning down over the stem,
His fork sunk in, destroying the roots,
And they'll never ever bear fruit again !
"I'll just give a helping hand to the lawn,
I'll seed it and give it fresh breath."
Unfortunately he scattered the wrong type of seed,
And the birds came and pecked it to death !
"The wife likes a good crunchy apple," he said
"I look after them as a marital duty."
But he pruned them down in such a way,
That they'll never ever again be fruity !
"Time for the edging shears," he stated,
"I like things in good military order."
So he clipped away in immaculate style,
And ruined almost every border !
When at last he came in, he found a short note.
He thought it must be for another.
It read," You silly great berk, you've ruined my work,
And I'm going home, to my mother !"
By Des Aster.
This poem is dedicated to my daughter, Emma.
Author: Trevor Durbidge Copyright © 2001 [TJD]. All rights reserved. Revised: October 30, 2007 .