This'll give you a jolt,
Because I'm, not the dolt,
You've often made me to seem.
I've invested my loot,
Gained good interest to boot,
And Iíve bought a new washing machine!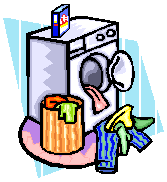 It was plumbed in today.
I said 'hip hip hooray!'
And piled in the bits, with my undies.
Oh! What a lark! It works in the dark,
And doesn't charge double, on Sundays!
I'm pleased ,through to the bones
That I can get rid of those stones,
That I used to bash my clothes, by the river.
Don't think that I'm rude,
But I had to wash in the nude,
And Bai Gum! It did make me shiver!
I've searched out the rest,
That I'm going to invest,
At a very high rate of return.
And it won't be too long,
Before I burst into song,
As I'll have enough money to burn!
By Loadsa Loot.
Author: Trevor Durbidge Copyright © 2001 [TJD]. All rights reserved. Revised: October 30, 2007 .