It's a funny life, I expect you know,
First you're up, and then you're down.
And in the next life you could come back,
As white, or black, or brown.
But no matter what the colour,
Religion, race or creed,
We all flinch from torture and
If we're cut we bleed!
So it made me rather bitter,
And all churned up inside,
To contemplate the tragedy,
Of South African Apartheid.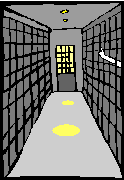 That it's gone, is down to Mandela,
A truly wonderful man,
Who despite a life in prison,
Is still doing all he can.
It was he who, by example,
Throughout isolation, led the fight,
And his nation back to sanity
With equal rights for black and white
He's a top man now, in South Africa,
With a heck of a job to do.
Solving problems and healing wounds,
And I know he'll do it too!
He needs the strength and strong support,
And there are those who hope he'll fail.
For there is still a very vicious swipe,
In the lively Fascist tail!
It's a race against time, they tell me,
Against deep iniquity.
But, if anyone can do it.
He will, with dignity.
By Iso Lation.
This poem is dedicated to my daughter Gillian.
Author: Trevor Durbidge Copyright © 2001 [TJD]. All rights reserved. Revised: October 31, 2007 .